Yemassee reads year-round for fiction, nonfiction, and poetry. Current guidelines can be found at http://yemasseejournal.com/. Beginning October 1st, there will be a $3 reading fee for all submissions. There is a expedited option ($6) for faster responses.
Send us your best!
Our Contest Issue!
Feel our beautiful matte covers and sturdy paper for yourself. Purchase a print issue of Yemassee via credit card for only $6. Our back issue archive with content details can be found here.
The newest issue, 25.2, features fantastic new work, including:
Fiction from William Russell Wallace, Allison Wyss, Jason Brady Molohon, Sean Bernard, and Kevin Lichty
Poetry from nicole shanté, Brandon Jordan Brown, David Joez Villaverde, Danielle Weeks, Ryan Clark, E.B. Schnepp, Daniel Edward Moore, Adam Tavel, Juliana Roth, Derek Berry, Malcolm Tariq, Kwame Dawes, Diana Fu, Christine Pacyk, Elizabeth Theriot, Derek JG Williams, Lauren Yarnall
Non-Fiction from Kathleen Kraft, Jean Ferruzola, and Meagan Ciesla
Cover Art by Andrew Green
Thank you for your support!
Please select this option to purchase a 1 year (two issue) or 2 year (four issue - $20 value!) subscription. Subscriptions starts with the current issue unless otherwise requested. Thanks for your support!


Title: chronicle the body
Author: m mick powell
Chapbook/Poetry
ISBN: 978-0-578-46251-6
Publication Date: 2019
Retail Price: $14.00
Distributed by Yemassee Journal
Publisher Contact: editor@yemasseejournal.com




"singing the song of soft knowing/screaming the song a soft rosary"
Urgent music and breathtaking self-reflection spill from Powell's chronicle the body. These poems remind me of the way strength, insight, and vulnerability converge in Lucille Clifton's lines: "born in babylon/both nonwhite and woman/what did i see to be except myself?" I'm also reminded of all the ways we must work to remember the simple miracle of our bodies, their wounds and healing, in a world that so often refuses to see the body's – in particular: black women's bodies' – trials and complexities. But chronicle the body lives and sings in the midst of our American mess, crafting its own rituals and music:
"i remember my body a bright kitchen, all sugar. jag. sweet milk. papaya and lime. basil leaf. slow fire, the smell of it.
i remember my body a dancing thing."
Powell's poems radiate with multiple valences of meaning. The title's subtle phrasing, how "chronicle" works interchangeably as verb and noun, urges us – challenges us – to record the stories of the body in one sense and, in another, implies that the body itself is a chronicle: one lit with wild survival, joy, pain, and unpredictable growth.
I'm most impressed by the range of voices that Powell inhabits in her series of prose poems, "Candy Girls" set in 1961, 1988, and 2011. Each is a matrix of empathy and imagination that embodies and vivifies intersections of adolescence, pop culture, and racial and sexual violence...I know, as a man, that these poems have changed me, opened me. Especially in our current moment of unmasking dangerous facades of masculinity, I'm grateful for the brilliant courage we witness here. chronicle the body is a collage of the sacred, mundane, familial, and existential; together, these images, emotions, and stories thrive as one ecstatic whole.

---Aaron Coleman, author of St. Trigger and Threat Come Close



mick powell (she/her) is a queer black Cape Verdean femme feminist poet. She is currently an MFA candidate in Poetry at Southern Connecticut State University. Her work has been published or is forthcoming in Apogee Journal, Winter Tangerine, The Feminist Wire, and elsewhere. She is a notorious movie-talker who also enjoys talking about Beyoncé, baked goods, bodies, and how much she loves the people she loves.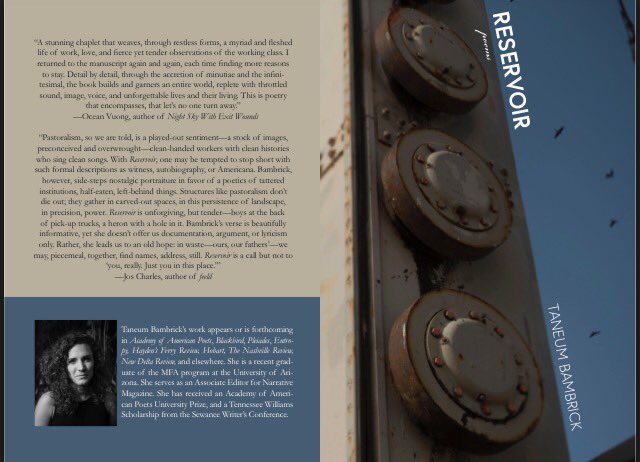 Title: Reservoir
Author: Taneum Bambrick
Chapbook/Poetry
ISBN: 978-0-9887044-5-9
Publication Date: March 10, 2018
Retail Price: $12.00
Distributed by Yemassee Journal
Publisher Contact: editor@yemasseejournal.com
A stunning chaplet that weaves, through restless forms, a myriad and fleshed lie of work, love, and fierce yet tender observations of the working class. I returned to the manuscript again and again, each time finding more reasons to stay. Detail by detail, through the accretion of minutiae and the infinitesimal, the book builds and garners an entire world, replete with throttled sound, image, voice, and unforgettable lives and their living. This is poetry that encompasses, that let's no one turn away."
--Ocean Vuong, author of Night Sky with Exit Wounds
Pastoralism, so we are told, is a played-out sentiment--a stock of images, preconceived and overwrought--clean-handed workers with clean histories who sing clean songs. With Reservoir, one may be tempted to stop short with such formal descriptions as witness, autobiography, or Americana. Bambrick, however, side-steps nostalgic portraiture in favor of a poetics of tattered institutions, half-eaten, left-behind things. Structures like pastoralism don't die out; they gather in carved-out spaces, in this persistence of landscape, in precision, power. Reservoir is unforgiving, but tender--boys at the back of pick-up trucks, a heron with a hole in it. Bambrick's verse is beautifully informative, yet she doesn't offer us documentation, argument, or lyricism only. Rather, she leads up to an old hope: in waste--ours, our fathers'--we may, piecemeal, together, find names, address, still. Reservoir is a call but not to "you, really. Just you in this place."
--Jos Charles, author of feeld
Taneum Bambrick's work appears or is forthcoming in Academy of American Poets, Blackbird, Pleiades, Entropy, Hayden's Ferry Review, Hobart, The Nashville Review, New Delta Review, and elsewhere. She is a recent graduate of the MFA program at the University of Arizona. She serves as an Associate Editor for Narrative Magazine. She has received an Academy of American Poets University Prize, and a Tennessee Williams Scholarship from the Sewanee Writer's Conference.